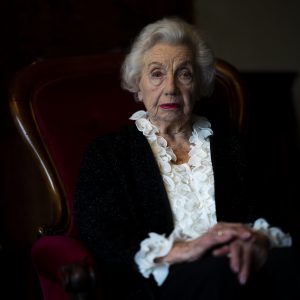 "Mrs. Polman, a century in the form of a Woman"
This grand lady has been a great inspiration for a few years. She is elegant, a running library and very art-loving. In her presence, life is a different story. Time delayed, subjects of several decades or centuries and with a grandeur that no longer exists.
She has supported, inspired and served as a model for various projects. It all started with my project about the modern interpretation of the girl with the pearl of Vermeer. Through a family member of her I came in contact to borrow the pearl earring for the project. She was very enthusiastic about the project and we kept in touch. She was busy making her book about pearl and in the end I did some work, including the cover of her book. Fortunately, that friendship has lasted for many years. So when a Rijksmuseum competition about Rembrandt came along in early 2019, it quickly became clear what I had to make.
Rembrandt is independent of his painting technique as far as I'm concerned for appealing people and characters who still speak after 350 years. As a result, the master painter is still appealing today.
I have captured this aspect in this special 100-year-old woman. Born in 1919 and even in 2019 still full in her power and with the wisdom on lease! To make this speak centrally, the work is pure and elegant. She enters into a dialogue with the viewer and asks unspoken questions.
In a time where everything must be fleeting, fast and well-organized, there is much to learn from the older fellow human being who has experienced a lot, is full of wisdom and where time goes by slowly.
Rembrandt also has this feeling, there is more to it than the first impression ..
– 2019-