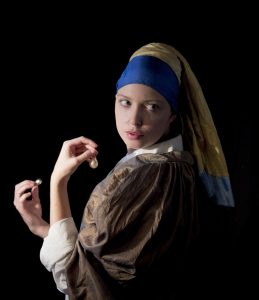 The girl with the pearl earring of Vermeer, everyone knows it. Especially after it has recently travelled the world (2012-2014).
For years it has been a masterpiece for me, which really remains in mind. Almost everyone knows such a moment that you suddenly realize that something is real and you need to act on it.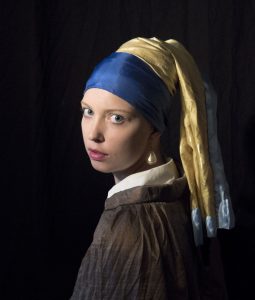 With a postcard framed in my room, the moment was there, then I had her in front of me! What happened in my imagination was a film. As if she stepped out of the painting.
That is how I approached my work in this way, like a film. With a three-piece result. Vermeer's composition and my interpretation of it. In other words, the moment of choosing consciously the earring, the moment of Vermeer and the moment that she walks away. This gives the work a certain dynamic in itself.
Vermeer's painting from 1665 is still alive after 350 years in 2015. The same look from the damp eyes and mouth!
In order to achieve this completely well, many shoots have been done with Jorine Idzinga, together about 1.5 years.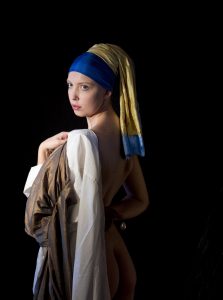 The pearl earring is borrowed from the 95-year-old Mrs Polman who has had a long career in the pearl world. This was the first contact with this special woman that I still have contact with, now 99 years and no one to compare.
After being freshly presented, Haarlems Dagblad immediately assigned her front page and 2 pages in the newspaper, which felt like an honour.. (97.000 pieces)
The "studenten kortingskrant" has also dedicated a complete page to it, 60.000 pieces.
The work is now ready and for sale. If you are interested, contact me!
Circulation 25 pieces per piece, printed on Hahnemühle photo paper and placed on aluminium dibond with a certificate.
-2015-